Hotels & Resorts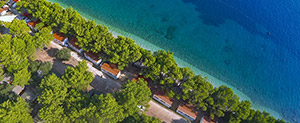 Special offers
By booking directly through our site, unlock a number of special benefits designed just for you.
View offers
Book now
Book direct to get best possible offers
Book now
Destination
Croatia - Makarska Riviera - Igrane
Croatia
Entire world in one country.

Eight national parks and twelve nature parks, a thousand islands, hundreds of rivers, ten UNESCO sites and almost four million welcoming hosts at just 58,000 km2, an entire world in one country.
Magical history rich in myths and legends has left its trace at every turn, with natural beauties for travellers from all over the world. Adriatic Sea attracts divers to discover its underwater treasures, and excellent road and air transport connections bring our guests from all over Europe to the authentic experience of the true Mediterranean in just a couple of hours from their doorstep.
Makarska Riviera
Unforgettable beaches, unique vacation.

If you are looking for the most beautiful beaches, a place under the pine trees, your hidden bay and oasis of peace, Makarska Riviera is waiting for you with open arms. A full 60 kilometres of pure Mediterranean offers just about everything you need for your summer vacation.
An extraordinary blend of mountain Biokovo and the Riviera which it has been protecting for centuries, but at the same time hiding as the most beautiful story. Just thirty minutes away from your beach towels, you can find yourself at the mountain lookout point with beautiful views of the Riviera and the islands.
Each little spot on the Riviera has its own specifics, its own mark, something that makes it different and gives it its own little stamp, and yet all have in common a love for the Riviera, respect for the guests and exceptional hospitality.
Igrane
Authentic Dalmatia for a different vacation.

For travellers in search of a combination of an authentic Dalmatian place with a beautiful beach and the scent of grilled fish, Igrane is the obvious choice. Along the entire kilometre and a half of one of the most beautiful beaches on the Makarska Riviera, there is a modern promenade with a diverse gastronomic offer.
Many historical legends are related to Igrane, but the most interesting is one about king Arthur and his mother, after whom the village was named, a legend that the locals are especially proud of and will be very happy to tell you all the details.
And if in the evening you hear some murmur or shouting, rest assured that it's not a neighbour's quarrel about who caught the biggest fish that day, it is the local water polo club in the hunt for new victories, supported by its loyal fans.