Hotels & Resorts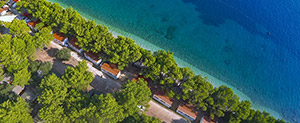 Special offers
By booking directly through our site, unlock a number of special benefits designed just for you.
View offers
Book now
Book direct to get best possible offers
Book now
Excursions
Region Dalmatia - If you would like to complete your stay with adventures from Dalmatia, there are various options for choosing your day trip.
Nestled in the very south, between the mighty Dinarides and the crystal-clear blue Adriatic Sea, once divided between Venice and the Ottoman Empire, stands the historic region of Dalmatia, with its great tradition and cultural heritage.
Its Mediterranean climate was enjoyed by the ancient Illyrians and Romans, and its enchanting beaches, countless islands, clear rivers and wild forests have been renown in Europe for hundreds of years. The cultural and economic center of this region has been the city of Split since ancient times, and other important cities are Zadar, Sibenik, Dubrovnik, Trogir, Sinj, Omis and Makarska. Whichever corner you choose to explore, pleasant people, delicious food, amazing sights and exciting events await you. Dare and discover Dalmatia!
CONTACT: TUI Representative or hotel reception
SAFETY: In order to provide our guests with the highest possible level of safety during these trips, TUI BLUE excursions are available for hotel guests only.
Explore new corners of beautiful Dalmatia through specially designed TUI BLUE® excursions.
KRKA NATIONAL PARK
TUI BLUE excursions
With 7 travertine waterfalls and a total drop of 242 meters, the river Krka is a natural karst phenomenon. During the hot summer days in this national park you can refresh yourself by walking along the waterfalls or boating across the river.
DUBROVNIK
TUI BLUE excursions
The rich history of the city and beautiful architecture invite you to climb the famous city walls, walk along Stradun and get lost in the small streets and passages that provide shade in the hot summer months.
SPLIT
TUI BLUE excursions
Seize the day in the pearl of Dalmatia! Explore the Diocletian's Palace, take a walk along Marmont Street and experience all the charms of the largest city on the coast.
SKYWALK BIOKOVO
TUI BLUE excursions
Join us on a panoramic tour of the mountain Biokovo to discover its natural beauty, including a new attraction - the glass platform "Skywalk". Explore the observation deck for spectacular views of the sea and islands along the coast.
HVAR & BRAC
TUI BLUE excursions
A day trip to the two neighbouring islands of Hvar and Brac and a visit to the world-famous beach Zlatni rat is a unique opportunity to sail in one day and experience first-hand the authentic flavours and scents of Dalmatia.