Hotels & Resorts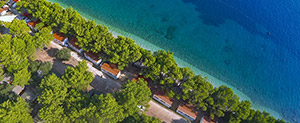 Special offers
By booking directly through our site, unlock a number of special benefits designed just for you.
View offers
Book now
Book direct to get best possible offers
Book now
Makarska Riviera Beaches
With the arrival of sunnier days, we are starting to think more and more about summer. Many of us already started looking for a suitable holiday destination. We chose the Makarska Riviera, which with its long coast offers some of the most beautiful beaches in Croatia. Many of them have been awarded Blue Flags, certificates of excellent water quality. With crystal clear sea, they offer everything you need to attract visitors. Therefore, we have selected for you ten great beaches suitable for relaxing on hot summer days:
MAKARSKA TOWN
1. Makarska beach
The main beach that stretches from the city port to the hotel. This beach with shade offers many activities, from parasailing to windsurfing, lifeguard service, many bars and restaurants, but also accommodation. You can also visit the nearby part of the old town of Makarska.
2. Nugal
It can be reached from Makarska or Tučepi. If you are in Makarska, a thirty-minute walk through the Osejeva Forest Park will give you a fantastic view. You can also reach this beach by boat. One of the biggest attractions is the rocky cliffs on the side, which create amazing waterfalls after heavy rain.
BRELA
3. Punta Rata
This pebble beach is located on the cape, covered with fragrant pine forests and palm trees. In 2004, Forbes Magazine named it the most beautiful European beach, including the popular Copacabana, Costa Del Sol, Maldives, St. Tropez et al. She was also awarded in 2014 on the American news portal The Huffington Post and in 2015 on the Belgian page European Best Destinations. This beach is rocky and the water is entered through sand. Due to the turquoise color of the sea, it has become the most common symbol of the social network Instagram. Suitable for families with children, it offers sun loungers, parasols, showers and a variety of water sports.
4. Vruja
The secluded beach is located 6 kilometers north of Brela and one of the most beautiful beaches on the Riviera and in the whole country. This place is suitable for all those who like to hike at sea. The view from the top is definitely worth hiking. The beach with a slightly colder sea than the others is partly nudist, but it is also visited by families who want a little peace and quiet.
BAŠKA VODA
5. Ikovac Beach
This pebble beach is located in Baška voda. It stretches along the street that can lead to Brela. There is a bar on the beach so you can relax while your children play in the shallows. After enjoying the joys of the sea, you can refresh yourself at a nearby restaurant. If you prefer an active vacation, you can try banana or tube rides, and those who are brave can rent a jet ski to ride the sea. A few minutes from the beach there is a children's playground and a trampoline that your little ones will adore.
6. Nikolina
Nikolina beach is located in Baška Voda. It is surrounded by conifers that will provide you with much-needed shade during hot days, while along the beach there is a city promenade, also covered with dense and impenetrable canopy. Young and old, singles and couples with children can enjoy here. The beach has showers, changing cabins and an elevated reconnaissance, from which lifeguards watch you in case you need help. Please note that the entrance to the water is suitable for people with disabilities.
ŽIVOGOŠĆE AND TUČEPI
7. Velika Duba
You can reach it by goat road through the forest from Blato or from Mala Duba down the coast. There is no shade on Velika Duba beach, so bring parasols. There is one cafe bar on the beach, so those who want peace are welcome here. The beach, which due to its beauty is considered Dubai beach, is bent inwards which creates a very nice atmosphere.
8. Tučepi Beach
It is the longest beach on the Makarska Riviera. It is four kilometers long. You can walk along the promenade where pine and tamaris trees are planted. Tamaris trees provide shade so this pebble beach is suitable for all those who do not like to fry in the sun. It also contains pedal boats and water slides. Parents can enjoy a coffee at a nearby café.
DRVENIK
9. Donja Vala
It is covered with gravel, and the narrow coastal part goes under the waterfront, which has a pleasant entrance to the sea. It is a beach that stretches along the entire bay between the ferry dock and the boat port. Here you can find numerous terraces of many restaurants, pizzerias and cafes. Showers and changing rooms are available on the beach.
PET FRIENDLY BEACH
10. Cvitačka
If you take your four-legged pet to the sea, then this beach will surely delight you. Namely, this is the nearest beach where dogs are welcome. Pebble is bathed in crystal clear sea where you and your pet will enjoy. It is only two kilometers from the city center. Cvitačka is actually the name of a whole group of smaller beaches full of cafes, food and ice cream stands. Also, on the beach you can go parasailing, rent a jet ski and enjoy many adrenaline activities.